Farmers' Market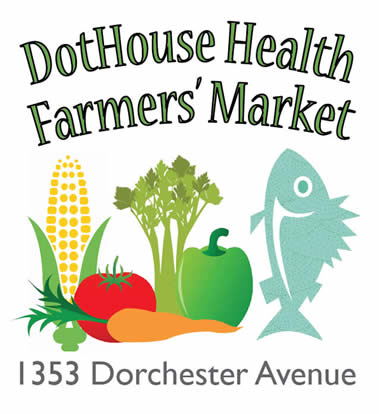 DotHouse Health Farmers' Market runs seasonally every Tuesday from July 17th to October 9th. The Market has a new location this year. We will be located outdoors in the space next to the DotHouse Health WIC office.
For more information or if your interested in becoming a vendor, please contact Loren Ramos at loren.ramos@dothousehealth.org or call 617-740-2581.
We accept WIC, Cash, EBT, debit and credit cards.
The Market typically includes the following produce:
Amaranth

Basil
Beets
Bok choy
Braising mix
Carrots
Chayote tips
Cherry tomatoes
Cilantro
Collards
Cucumbers
Dill
Eggplant
Garlic
Green beans
Heirloom tomatoes
Jalapeno peppers
Kale
Lettuce
Long string beans
Mustard greens
Okra
Pea tendrils
Plum tomatoes
Pumpkin
Pumpkin tips
Purslane
Radicchio
Radishes
Red (bell) sweet peppers
Scallion
Scallions
Swiss chard
Zucchini
Beets
Carrots
Cherry tomatoes
Cilantro
Cucumbers
Dill
Eggplant
Garlic
Heirloom tomatoes
Jalapeno peppers
Kale
Lettuce
Long string beans
Mustard greens
Okra
Plum tomatoes
Pumpkin
Red (bell) sweet peppers
Swiss chard
Zucchini
Market Hours:
11:30am to 1:30pm, every Tuesday from July 17th to October 19th
For more information or if you are interested in becoming a vendor at our Farmers' Market, Please contact Loren Ramos at loren.ramos@dothousehealth.org or 617-740-2581